Chiropractor Chris Seeley D.C.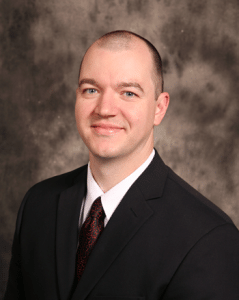 Dr. Chris Seeley was born and raised in the Portland Oregon area.  When he was 17 years of age he had a life changing experience that shifted his course in life.  While at work after high school he knelt down to complete his filing, when he got up he became so dizzy and disoriented that he started walking into things and could not open a door without a struggle.  When he got to the hallway to get some fresh air, he fainted and collapsed to the ground, in his own words "everything went white and I thought I was dying."  It got so bad that one of his coworkers met him outside and started to lecture him on drug usage, as he explained, "I'm not on drugs, I don't feel well."  After telling his situation to his dad he went to the doctor, but he knew that the prescription that was prescribed was not his answer, he never took the pills.
After further discussing his health problem with his dad they decided to make an appointment with a chiropractor.  Within a short amount of time he felt as if he got his life back.  He said that he felt as if his life was spiraling downward and after receiving chiropractic care that the vitality in his life was given back to him.
Dr. Chris had thought to pursue either the chiropractic profession or becoming a teacher, after reading the definition of a doctor, which means teacher, and knowing from experience the tremendous healing benefits of chiropractic care he knew his calling was to become a chiropractor and a teacher of health.
Dr. Chris graduated from the prestigious Life Chiropractic College West in 2005 and started serving the Tehachapi community in 2006.  Dr. Chris has received certifications in nutrition, natural health, physical fitness, wellness and spinal hygiene through the distinguished International Chiropractors Association.  Dr. Chris enjoys exercise and physical fitness, so much that he became a personal trainer.  Dr. Chris has state and national board certifications in Chiropractic.  He is the exclusive Upper Cervical Chiropractor in Tehachapi, CA, a specific, gentle and advanced form of chiropractic care which required several hundred hours of postgraduate study and practice, a spine specialist for both children and adults.  Dr. Chris's health philosophy comes from experience, "by taking pressure off of the nerves, balancing the body and allowing the innate intelligence to flow freely we can experience good health", the power that made the body, heals the body.
Monday
9:00am - 12:00pm
2:00pm - 6:00pm
Tuesday
9:00am - 12:00pm
2:00pm - 6:00pm
Wednesday
9:00am - 12:00pm
2:00pm - 6:00pm
Thursday
9:00am - 12:00pm
2:00pm - 6:00pm
Friday
9:00am - 12:00pm
2:00pm - 6:00pm
Saturday
Closed
Sunday
Closed